Sauté 'n Serve is a collection of ready meals that are defining the future of gourmet meals through a deep commitment to environmental and social change. We make mindful business decisions that connect environmental impact, the prosperity of the farmers and factories we rely on, as well as the enrichment of the communities we live in. We seek opportunities to create new frozen meals concepts that inspire change by providing an innovative experience that is based on shared values and kind spirit. We aim to inspire with our solid foundation of values as well as inspire others to follow our lead and pursue sustainable, conscious business practices.
Our chefs seek to create authentic flavors for foodies. We seek to bring to kitchens hand made, fully natural sauces with the authentic tastes of the world's most popular cuisines. Our sauces use no preservatives or natural flavors of any kind and are perfect for pasta and rice, or even to be enjoyed alone as an entry to your meals. Our seafood is certified sustainable and verified at the source by our responsible sourcing team.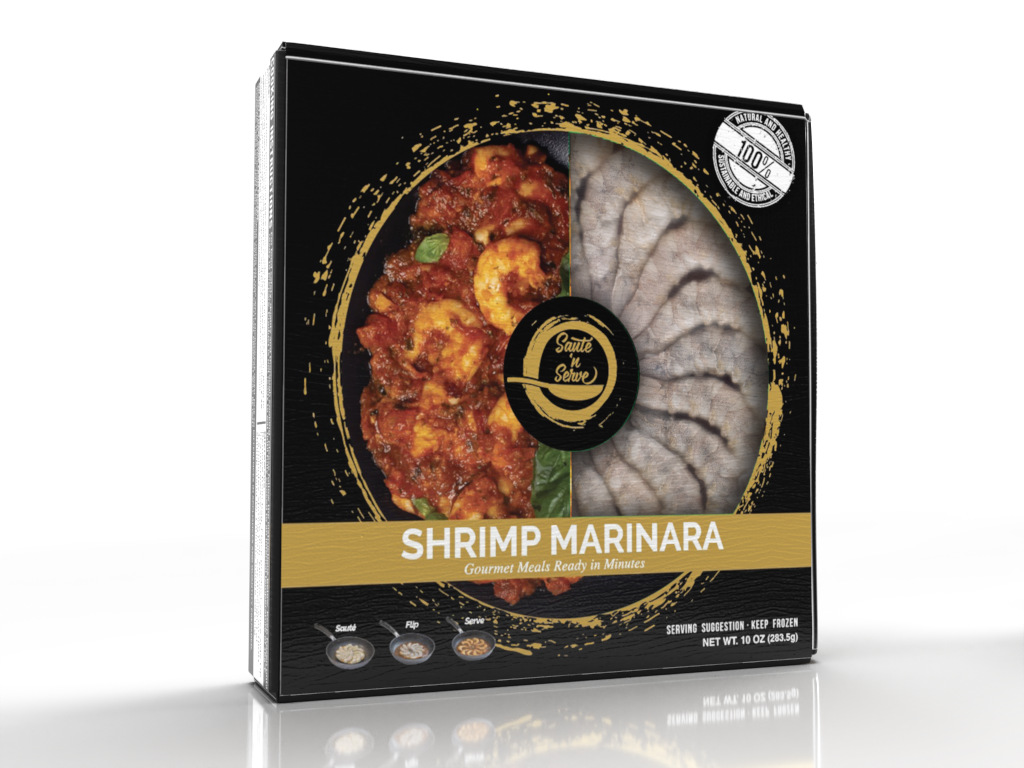 Sauté 'n Serve – Shrimp Marinara
Love at first sight. Prepared beforehand and fast to re-heat. Comes with a serving of Italian spaghetti, a generous serving of Vietnamese Vannamei Shrimp and our delicious homemade sauce. Taste the sweetness of our juicy Italian tomatoes, blended to perfection. Made with fresh basil, garlic, onions and other herbs.
1. Place disk on a sauté pan. Cook until the sauce has completely melted.
2. Flip the shrimp to cook evenly.
3. After 8-10 mins, it's ready to be served with Rice, Bread or Pasta.
Shrimp and sauce: Net weight 10 oz